From Prediction to Practice - Postsynthetic Modification of MOFs
Seminar/Forum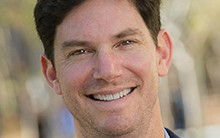 Masson Theatre
Masson Theatre

Map
MUCS Meeting #1064. The Don Stranks Memorial Lecture for 2018. Over 25 years ago Prof. Richard Robson predicted and postulated the postsynthetic modification of metal-organic frameworks (MOFs) when he wrote, "Relatively unimpeded migration of species throughout the lattice may allow chemical functionalization of the rods subsequent to the construction of the framework." This talk will illustrate how Prof. Robson's vision of MOFs being modified and functionalized has become a vibrant field of active chemical research. Results from the last 10 years in our laboratory will be highlighted, showing our contributions to making this vision a reality, turning MOFs from simply porous materials, into active catalysts and even micromotors.
Presenter
Professor Seth Cohen

University of California, San Diego

After high school, I moved to the San Francisco bay area to attend Stanford University (Go Cardinal!) where I obtained a Bachelor of Science degree in Chemistry and a Bachelor of Arts degree in Political Science. Upon completion of my undergraduate education I moved across the bay to attend graduate school at the University of California, Berkeley where I studied under the guidance of Prof. Kenneth N. Raymond. After completing my Ph.D. at U.C. Berkeley, I moved to Boston, to perform postdoctoral research in the laboratory of Prof. Stephen J. Lippard at the Massachusetts Institute of Technology. After about two and a half years in Boston I moved to my present position at the University of California, San Diego (Go Tritons!). On July 1, 2011, I was promoted to the position of Professor, and served as Chair of the Department of Chemistry and Biochemistry at U.C. San Diego from July 2012 to June 2015. I currently hold the title of Leslie Orgel Faculty Scholar in Inorganic Chemistry from the Department of Chemistry and Biochemistry at the University of California, San Diego.