EXIT - Globalisation, Climate Change, and Art
Free Public Lecture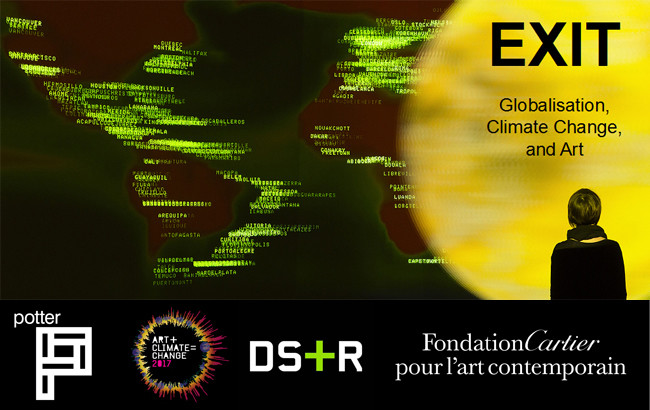 Carrillo Gantner Theatre
Sidney Myer Asia Centre

Map
Seminar presented by the School of Geography, with the Ian Potter Museum of Art and CLIMARTE.
Globalization has always been contested. Its economic and cultural transformations have been promoted and welcomed by some, its incursions bitterly resisted by others. Meanwhile, the pace of globalization is accelerating. Its instabilities and impacts are intensifying. We are leaving one world behind and entering others.
How can we think about the interwoven drivers of exit and entry? How best to represent, understand and respond to them? Can art play a role here?
In a time of increasing anxiety about globalisation and its impacts, the installation EXIT at the Ian Potter Museum of Art provides a vibrant representation of some of the processes which link us, sometimes inextricably, planet-wide.
In an immersive 360-degree projection, EXIT visualises global human migratory trends associated with increasing urbanisation, economic displacement, political disruption, climate change, and natural disasters. Data gathered from over one hundred sources are presented visually by a panoramic video projection of a rotating globe that translates statistics into maps, texts, and trajectories as it orbits the exhibition space.
Commissioned by the Fondation Cartier pour l'art contemporain, Paris, EXIT is based on an idea by French philosopher and urbanist Paul Virilio. It was created by Diller Scofidio + Renfro, with Laura Kurgan, Mark Hansen, Ben Rubin, in collaboration with Robert Gerard Pietrusko and Stewart Smith.
Showing at the Ian Potter Museum of Art, at the University of Melbourne, EXIT is the central feature of the ART+CLIMATE=CHANGE 2017 Festival, which runs from April 19 until May 14 across Melbourne.
On Wednesday 26 April, a panel of experts will discuss EXIT and the provocative issues it raises:
Erika Feller - Former UNHCR Assistant High Commissioner for Protection and Vice-Chancellor's Fellow at The University of Melbourne, on Refugees and forced displacement;
Professor Brendan Gleeson - Melbourne Sustainable Society Institute, on Population shifts and the growth of cities;
Professor Lesley Head - School of Geography, on Natural Disasters and their impacts;
Dr Celia McMichael - School of Geography, on Climate change, rising seas, displacement;
Professor Andrew Walter - Melbourne School of Government, on Global funding flows and remittances.
You are urged to see EXIT before attending this event.
IMAGE: EXIT 2008-2015 - View of the installation EXIT
Collection Fondation Cartier pour l'art contemporain, Paris
© Diller Scofidio + Renfro, Mark Hansen, Laura Kurgan and Ben Rubin, in collaboration with Robert Gerard Pietrusko and Stewart Smith. Photo © Luc Boegly
Presenters